Case Study
High Performance Team Programme
Building and sustaining high performance in individuals and in teams
"Talent wins games, but teamwork and intelligence wins Championships."
Introduction
Why are some teams focused, committed and loyal whilst others are paralysed by politics, negative emotions and wasted energy? Understanding and mastering the dynamics of team-working is crucial if teams are to fulfil their potential. Sporting teams as with any other teams need to focus on what makes them successful and how they can improve.
For teams to be successful they need to know where they want to go and plot a route of how to get there. Stepping back from the competitive game environment enables teams to reflect on the important elements that make them a team. Articulating and involving everyone from the team in this process ensures that everyone is on board and focused on the Goals that the team wants to pursue
At Interactive Solutions, we have over 25 years' experience of working with a variety of successful teams from both business and sport. We recognise that true team development focuses on individual responsibility, attitude and accountability rather than on vague notions of 'team'.
We don't aim to 'fix' a particular team at a particular moment in time. We work to create a deep awareness of the dynamics of teams. We provide portable skills and learning for individuals, to ensure that benefits are sustained even when the membership of a specific team changes.  As part of this process Fintan Ryan, (Director – Interactive Solutions) will work with your team as a Team Facilitator to help the team focus on the team identity, values, beliefs and goals. Combining his role as both a Team Facilitator and Sports Coach he can enable individuals and ultimately the team to reach their potential.
Approach and Methodology
Our Experiential Learning approach is based on the following process: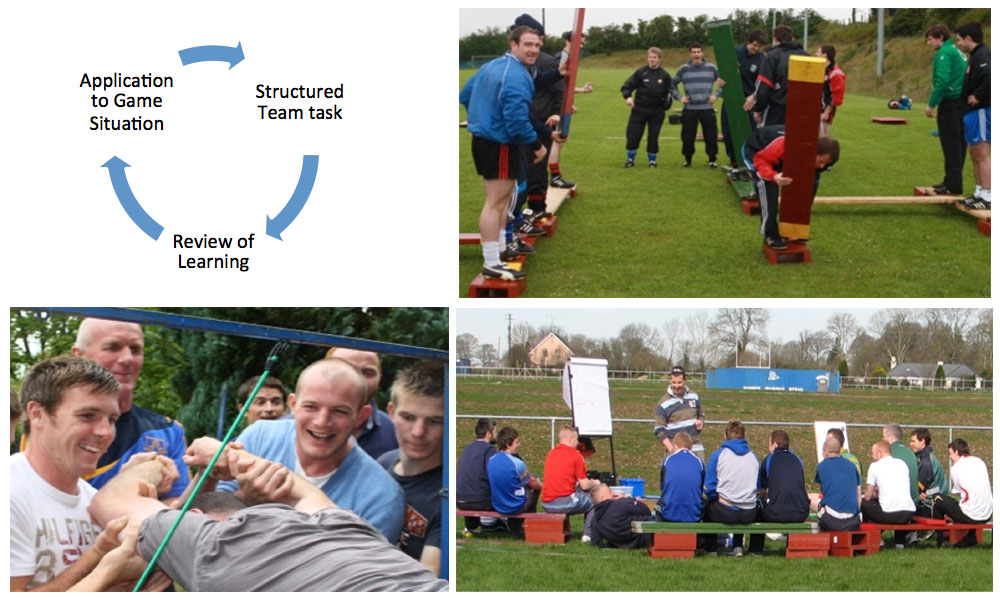 The power of experiential training lies in the fact that engagement in carefully structured activities and scenarios results in profound learning experiences which are not possible with more traditional and conventional classroom training methods.
Teamwork is essentially a set of practical behaviours. It is not possible to really learn about and understand the advantages and indeed the difficulties of working in a team without actually doing something together. We use a series of structured tasks each of which is designed to highlight some element of effective and destructive team behaviours. The tasks will require all participants to contribute and to interact and will have to be completed within a given time frame. The advantage is that the teams and the observers can quickly see whether there was success or failure and what were the behaviours that contributed to the overall result.
After each task there is a structured review session during which the group is encouraged to examine their actions, behaviours and the process by which they tackled the task. The group will also discuss how the learning experience can be related to the game situation.
The outdoor training tasks and review sessions are also supplemented by a number of indoor working sessions. We believe that this approach offers a powerful combination of experiential learning and effective "classroom style" training.



What we focus on
Vision - In order to succeed, a team needs a clear compelling purpose, which clearly links to performance goals.  We support and challenge teams to find the vision and goals that underpin their future success
Values. A team needs to understand where it wants to go (Goal focus) but it also needs to determine what is important in the journey. Understanding the different needs and wants of individuals in a team environment allows the team to focus what's important to the team and what environment do the team want to create for themselves. We enable teams to determine how they want to work together as a team (The Team Values)
Ground Rules and conduct. All teams need to develop ground rules, understand their own structure and agree how they will work. We accelerate this process by helping a team to design their own structure, rules and processes to suit their purpose.
Team Forum: New and existing teams need to establish a forum for productive conversations. We help new teams to overcome the initial anxieties associated with joining a group and existing teams to become more skilled at bringing people in and giving them a voice.
Learning Environment: Teams can only achieve high performance if they are able to take on new challenges and act on the lessons learned. We assist teams to develop a culture of risk-taking, openness and feedback to support high performance and personal growth.

Fintan Ryan's work with different sports team has included:
Munster Senior Rugby Team
Leinster Senior Rugby Team
Irish Olympic Team (49ers sailing team)
Garyowen RFC
Mayo GAA Team
Roscommon GAA
Sligo GAA
Fermanagh GAA
Donegal GAA
Dublin GAA Team
FAI Coaching Team
Castleknock Celtic
Waterford Senior Hurling Team
Club Teams, Seneschalstown, Gaelcolmcille,Killygarry, Bohermeen St Ultans
The team programme worked really well because it was practical and involved lots of activities and tasks. The ability to apply the learning to the game situation made the experience really worthwhile for the players. Ensuring a team and individual commitment to actions galvanised the learning after the experience"
Benny Reddy, Coach