Team Building - Team Development

Experiential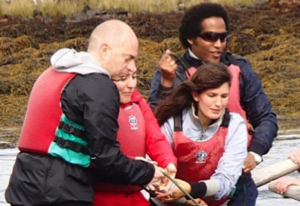 At Interactive Solutions, we have over 25 years' experience of working with teams from both business and sport. We recognise that true team development focuses on individual responsibility, attitude and accountability rather than on vague notions of 'team'.
We work to create a deep awareness of the dynamics of teams. We provide portable skills and learning for individuals, to ensure that benefits are sustained even when the membership of a specific team changes.
See a sample of our case studies outlined below. These include:
Innovative
Designing a bespoke programme is critical to maximise the opportunity for team building activities.
We pride ourselves at working with our clients to design programmes that energise, enable and empower teams.
From fun activity programmes to facilitated workshop we have the expertise to put a unique memorable experience in place.
See some of our previous work in a sample of our case studies. Themed team activities include:
Team Activity Programme
Art attack
Movie Making/ "15 famous minutes"
It's a Knockout
Mission Impossible
Drumming Workshops
Focused
Our team development programmes enable teams to bond, grow and develop.
By using structured tasks each of which are designed to highlight key skills for effective teamwork (e.g. Communication, problem solving, conflict management etc.) our learning process provides a perfect learning environment for teams to enhance their development
Structured Reviews and Analysis
After each task there is a structured review session  where the group explores  their actions, behaviours and the processes  during the task.  Finally the learning  from the task is related to day-to-day situations in the workplace

"Fintan has provided excellent performance team building - cross functional project management - project execution training & facilitation to our business in Ireland and UK over the last 7 years.  He has an engaging style that delivers results every time"
John Kieran, GM Kerryfoods.
"Fintan's ability at facilitating true team building is second to none. His wit and humour combined with his knowledge and flexible approach set him apart from others within the industry"
Melanie Hopkins, HRBP Sales & Marketing at Tata Steel in Europe